Stuffed acorn squash with panko-crusted crab produces a scrumptious Thanksgiving side meal.
" An acorn squash filled with 'stuffing,' this meal is ultimate fall. This meal is high in protein and gluten-free, thanks to the tacky, gluten-free panko-crusted crab, and ideal for visitors or household members who might follow a specialized diet plan," states Rima Kleiner MS, RD, a nutritional expert and blog writer at Dish on Fish(this dish can likewise be discovered in the National Pescatarian Month E-Cookbook " Everyday Seafood Recipes: 65 Quick & Easy Dishes"). "And truthfully, it does not take much to finish this gorgeous meal– possibly some leafy greens and a glass of gewurztraminer."
UNEXPECTEDLY COOKING THANKSGIVING THIS YEAR? POINTERS ON HOW TO STAY SAFE
Ready to get cooking? Get the dish listed below.
Stuffed Acorn Squash and Crab from Dish on Fish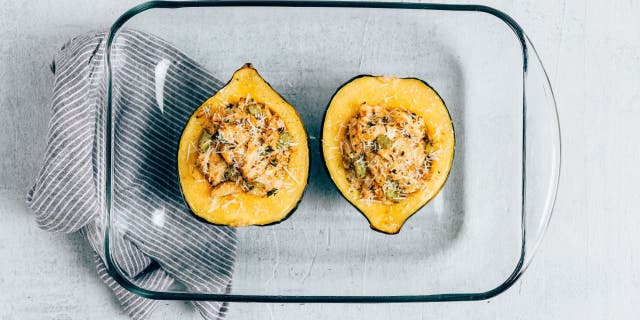 .
Meal on Fish nutritional expert and blog writer Rima Kleiner shares a packed acorn squash and crab dish with Fox News.
( Dish on Fish)
Makes 4 portions
Prep Time: 5 minutes
Cook Time: 65 minutes
SALMON RICE BOWLS HAVE TAKEN OVER TIKTOK: TRY THE RECIPE
Ingredients:
2 acorn squashes, halved lengthwise and seeds dug (leaving a "bowl" in acorn squash)
1 Tbsp. olive oil
4 cloves garlic, minced
2 stalks celery, sliced
1 tsp. dried parsley
2 tsp. Old Bay flavoring
1 pound. swelling crab meat, drained pipes
1/4 cup cream cheese, softened
1/4 cup Parmesan cheese, shredded
1/4 cup gluten-free panko crumbs or crushed gluten-free rice cereal (like Rice Chex)
Salt and pepper, to taste
GRILLED LOBSTER TAIL KEBAB RECIPE WITH LEMON HERB BUTTER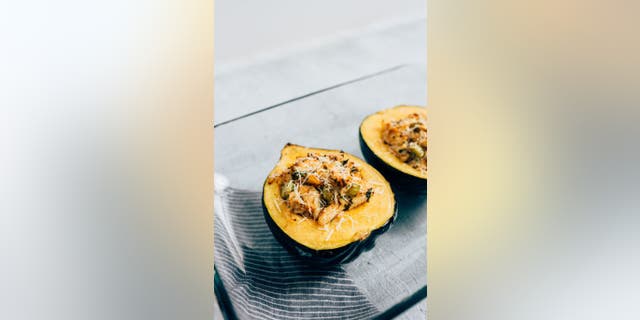 .
Meal on Fish's packed acorn squash dish is made with panko-crusted crab, garlic, cheese and spices.
( Dish on Fish)
Suggested cooking tools: Glass baking meal, sauté pan
CLICK HERE TO GET THE FOX NEWS APP
Directions:
Preheat oven to 400 ° F. Place acorn squash halves cut side in a glass baking meal; reserved.
Heat olive oil over medium heat; sauté garlic and celery till tender, about 2-3 minutes. Include parsley and Old Bay spices. Eliminate from heat.
In a medium bowl, integrate crab, cream cheese and prepared veggies. Mix to integrate all active ingredients; include salt and pepper to taste.
Using a spoon, scoop mix into squash "bowls." Divide mix in between squash bowls. (It is alright to over-stuff "bowls.") Leading with Parmesan cheese and panko or cereal. Cover with foil; cook for 45 minutes.
Remove foil and cook for an extra 15 minutes, or up until stuffing is browned and squash hurts. Makes 4 portions.
FOLLOW United States ON FACEBOOK FOR MORE FOX LIFESTYLE NEWS
.